CONTACT: JACKIE STEVENSON 860-434-2608
FOR IMMEDIATE RELEASE
December 31, 2014
GROTON, CT – On a blustery day when the temperature dipped well below freezing one thought echoed throughout a community that recently experienced a power outage.
"Don't go without power!"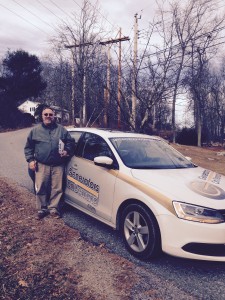 Houses, restaurants, and businesses were left with the strangest of Christmas gifts – some of up to eight hours without power. The fear of having a similar incident occur on such a cold day reverberated.
"Thank you so much for coming over," said Dan, who wished not to be identified by his last name, a resident on Buddington Road in Groton. "We will look at your webpage and choose the generator soon before we have more winter storms approaching," he continued.
This is of utmost concern to different healthcare facilities, food businesses, and residences.
An apartment complex near Route 184 in Groton reported not having power for over eight hours on Christmas.
"Not having power is very dangerous for us," explained the manager who declined to identify herself. "Several people here are on medication and now we realize we must quickly buy a generator to prepare for future outages," she emphatically said.
According to Generac's webpage, currently 97% of USA households still do not have generators. The generator industry is currently over $20 billion and growing rapidly.
About Generators On Demand
Generators on Demand – the leader in sales, service, rentals, and leasing of generators.
GOD has worked with a wide variety of small, medium, and multinational companies throughout the region to ensure they never go without power. Some clients include Target, McDonalds, and CL & P.
Business and Organizations:
• We are a strategic partner in an organization's Business Continuity Planning.
• As a component in the corrective measures for the Disaster Recovery Process, we work alongside our partners to expedite their resumption of business.
• We can assure you that in these tough economic times you can still perform against your competition, expand your sales and grow your business when others are out of power.