WE OFFER 24/7 EMERGENCY RENTALS- CALL GENERATORS ON DEMAND WHEN YOU NEED POWER MOST!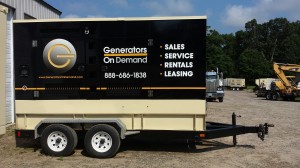 Rentals are ideal for businesses with limited space for a standby generator, events large and small, and even franchises. How are you going to keep the power on when your transformer needs to be serviced, or a telephone pole goes down? Generators On Demand can help. We offer mobile rentals ranging from 20kW to 1.5MW that run on diesel fuel.
Generators On Demand will arrange the best way for you or your company to have the security of backup generators. Generator Rentals are a great option for many of our clients. We offer daily, weekly, and monthly rates for generators on all sizes, from small residential units to large industrial mobile units. We have single phase and three phase generators,  cables, cable ramps, connectors, plugs, and power distribution available upon request.
We also offer small, portable, gas generator rentals from 3250 watt up to 17500 watt for the home, camping trips, construction crews, and when Mother Nature is at her worst!
That's why we're always talking about service and why our customers love us. In short, Generators On Demand is committed to being your emergency power provider. We have the experience, staff and flexibility to provide exactly what you need at a price and payment plan that works for you.
We service Connecticut, Rhode Island, New York, Massachusetts, as well as Long Island, Fishers Island, and Block Island.  Please take a minute to call us at 888-686-1838. We're here 24/7, so we can answer your questions and get you started.

"We are your 24/7 emergency power specialists"